Walkera Tali H500 è la nuova configurazione Hexacopter RTF proposta da Walkera e si propone come una soluzione completa per fpv ed aerial photography.
L'esacottero è completo di fuselage e carrello di atterraggio retrattile che forniscono al modello un aspetto accattivante. La gimbal preinstallata è una Pro-level 3 axis brushless ad alte prestazioni con sistema HD iLook camera 13 MP e supporto 1080p 30fps per fpv con radio Devo F12E.
Sul fusolage è mostrata la carica residua ed il suo particolare design permette l'alloggio di elettronica e pacco Lipo 6S (22.2V) fino a 5400mAh per circa 25 minuti di flight time. Il carrello retrattile è automatico e si chiude in pochi istanti. La gimbal preinstallata è dotata di Walkera iLook ed è compatibile con Gopro 3. Il range video è di circa 1Km e il display LCD della radio permette di visualizzare tutti i dati di volo in real time.
Features: 
Perfect one-stop FPV solution
Pro-level GoPro Aerial platform
Up to 25 minutes of flight time
Pro-level 3 axis brushless gimbal and HD iLook camera
12-channel FPV radio included, with on screen data, real time telemetry and battery monitoring, and temperature and GPS data
iLook camera is high resolution, with 13 megapix stills and 1080p 30fps video
22.2V 5400mAh LiPo battery included
One key go home and failsafe functions
Retractable Landing Gear
360 Degree Aerial Photography
1k Video Range!
Round Cruise Functionality – The H500 will circle a GPS waypoint
Precise GPS
New Devo F12E
Failsafe return to home – In case of signal loss the H500 will return to home
Hyper IOC Function – The H500 can start and fly in any orientation solving "loss of orientation" problems.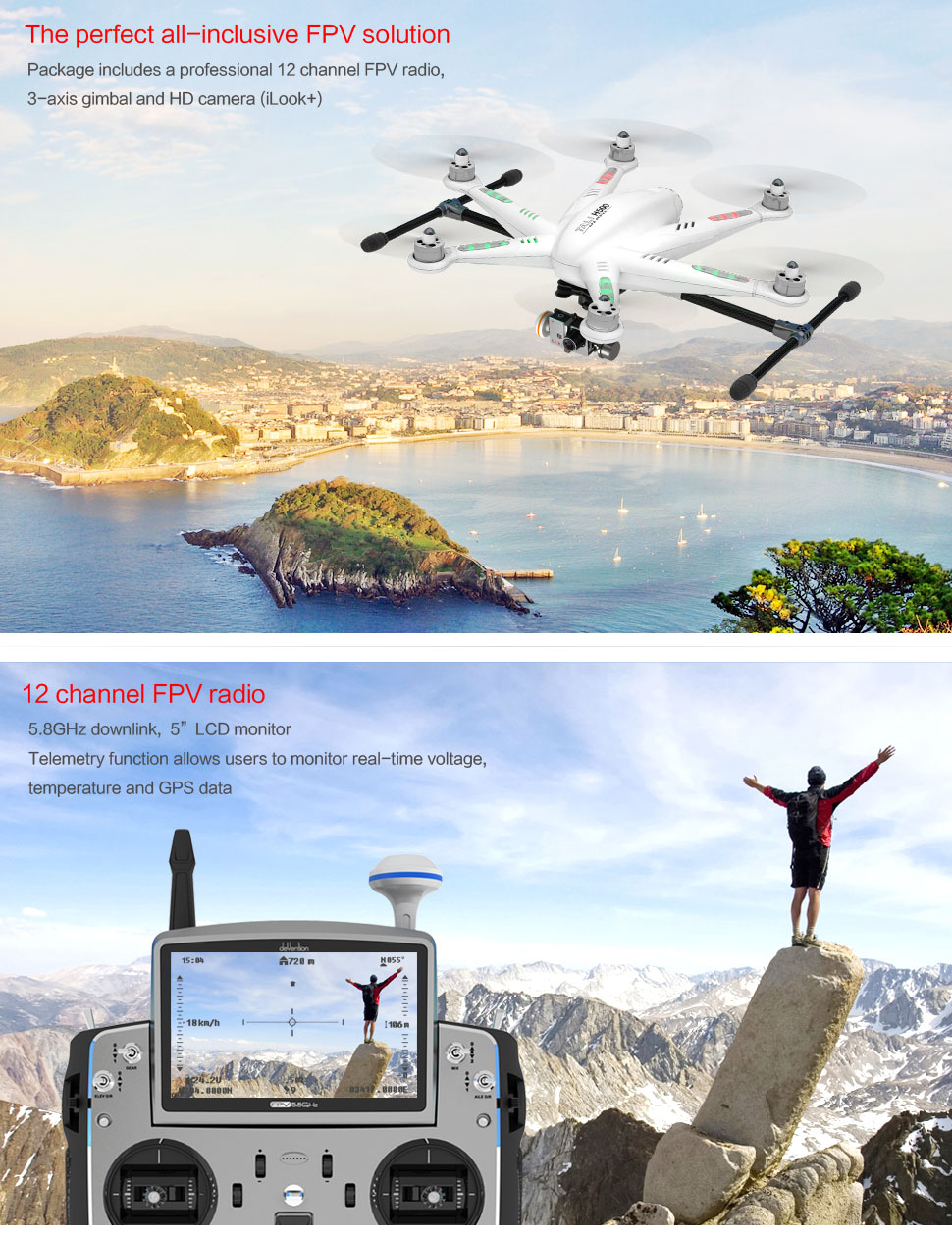 La dotazione naturalmente comprende elettronica  Walkera Devo M ed è affiancata da una radio di altissimo livello: Walkera Devo F12E. Ciò mette a disposizione del pilota un potente sistema di telemetria e funzioni automatiche di volo potentissimi come  Hyper IOC function che grazie ad un sistema intelligente di volo risolve il problema della "perdita di orientamento", oppure Object Round Flight che permette all'H500 di volare attorno ad un waypoint. Non mancano sistemi automatici di sicurezza come One key Go Home o in caso di perdita di segnale FailSafe Return to Home. Insomma il nuovo kit RTF Walkera ha tutte le carte in regola per essere tra i migliori sistemi fpv e aerial photography. La pagina ufficiale è Walkera Tali H500 official riporta "Coming Soon", e per sapere il prezzo di vendita esatto bisognerà attendere.
Walkera Tali H500 Hardware review 1:
Walkera Tali H500 Flight review 2: